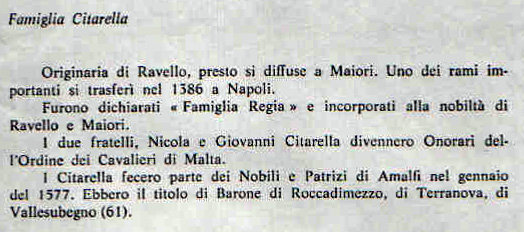 Citarella Family
Originally from Ravello, they soon spread to Maiori. One of the important branches moved to Naples in 1386.

They were declared "Royal Family" and incorporated the nobility of Ravello and Maiori.

The two brothers, Nicola (Nicholas) and Giovanni (John) Citarella became honorary members of the Order the Knights of Malta.

The Citarella Family were made part of the nobles and patricians of Amalfi in January 1577. They held the titles Baron of Roccadimezzo, of Terranova, and Vallesubegno (61).